A LOCAL PAINTER WITH AWARD-WINNING REVIEWS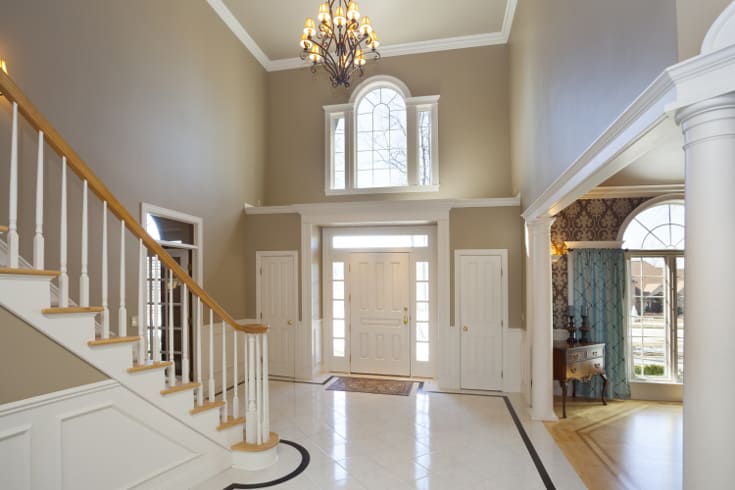 Hiring a house painter and having them work in your home involves trust. As your chosen painting contractor, we will earn your trust by making sure you get the best quality painting job possible.
As one of the most reliable painting contractors on the Main Line, we will take great pride in achieving a craftsman level finish in your home.  See our great reviews on Houzz to appreciate how we will care for your home.
Our professional painters work at a craftsman operating level, working beyond the level of quality given by ordinary painting contractors. Trained by our owner, our painters are constantly striving to a standard aligned with Ted's own standards of perfection.
There are many different skill levels in professional painters, from apprentice painters to production painters. These painters are usually in apartments jobs or maybe lower-market exterior jobs. The lower-skilled painters are "a dime a dozen." However, finding highly-skilled, well-trained finish painters is not any easy achievement. Under Ted's direction, TJ's hires and retains only the best finish-painters in the market.
We also work with budget and scheduling demands, reducing the stress that can be associated with a painting project.
As your full-service painter, we provide – exterior painting, power washing, deck staining, fine interior painting, wood refinishing, and kitchen cabinet painting. We can also support your painting project with our experienced team of trim carpenters, master carpenters, flooring pros, electricians, and handyman services.  Call us today for all of your painting needs, at 610-864-1649
Full Service Exterior & Interior Painter
Have you ever felt the pain of being under-serviced by an interior painter? We will heal that experience for you with our customer-friendly approach, including one-stop services such as trim carpentry, drywall repair, water damage repair, wallpapering, and electrician services. We handle in-house all of the trades necessary to support your painting project.
We provide the following services with every paint job:
Free color sampling, where our painters place the sample colors up for you!
Application of one finish-coat on the walls – then a collaboration to ensure you love your new colors. 
Craftsman-level finish (vs. an standard contractor finish).
Inclusive wallpaper removal and wallpaper installation services.
Use of the industry's best products and quality-control practices.
A Clean Work Site Equals a Happy Customer
Our painters will vacuum and clean your home thoroughly, especially on the last day of work. Your project's onsite supervisor will ensure that the work areas are left clean everyday. We also use HEPA vacuums on all interior painting jobs, per EPA Lead-Safe standards. 
Color is Life
We all know – color 'makes the world go round.' A new paint color can transform a room from dark and boring to bright and beautiful! A quality paint job also adds warmth and comfort to your home's interior. Choosing a shade for a wall color or coordinating colors with other elements can be difficult, but we make it easy for you because we never rush the process. Sometimes, it takes days to "just sit" with a new color and be 100% sure you love the color. And as a master painter who loves the creative side, Ted is always happy to help you with your paint color choices.
Inclusive Color Consultations & Color Sampling
Color Consultations can be scheduled to your convenience with one of our interior designers, onsite supervisors, or TJ's owner - Ted.  And we sample colors for you at no extra charge!
Proper Prep is Everything
The most important step of painting is the prep work. This is especially important on interior painting, where the quality of the finish is seen as a reflection of your home's value. In our craftsman approach, we go beyond the level of quality found in ordinary contractors' work.
Our work demonstrates the difference between hiring a craftsman-operated painting business vs. hiring an ordinary painter. We carefully prep the surfaces before priming, and we finish-sand between coats to ensure imperfections are removed before the final coat of paint is applied.  In essence, we treat the painting of your walls and woodwork like furniture refinishing, as our painters have been trained to have a meticulous eye with attention-to-detail.  
Our Product Partners
We primarily use Sherwin Williams and Benjamin Moore paints, including Fine Paints of Europe and other paint brands. As a result of our extensive experience, we are familiar with the various paint companies' product strengths and best applications. By having company standards on paint products, we ensure that our customers are given the highest quality finish possible. Inferior paints and discount paint rollers result in a lesser than desired outcome in the final finish. We only use no-shed paint rollers, and the best prep and restoration materials available in the industry.  Call Us Now… at 610-864-1649 – and schedule your exterior painting or interior painting quote today!