An Introduction Into Modern Recessed Lighting
New Recessed Lighting Options & Understanding L.E.D. Recessed Lights
If you recently had your local electrician install recessed lights, you may have been introduced to L.E.D. recessed lighting. The newest in recessed lighting technology is based in a relatively common form of lighting – L.E.D. lights.

Though, this lighting technology has evolved to become more user-friendly for the homeowners and electrical contractors alike.

For instance, L.E.D. recessed lighting and L.E.D. bulbs are now dimmable. When they came into the market, electricians on the Main Line had to inform homeowners that certain recessed bulbs and L.E.D. fixtures were not dimmable – at least not without a humming sound or flickering of the light waves.

If you are like myself, you enjoy the comfort and calm of incandescent or halogen lights. When installed on a dimmer switch by your Main Line electrician, incandescent lighting can be bright at full illumination or soft and intimate at lower settings. It is a completely different type of lighting when compared to L.E.D. lights, with different effects on how one feels under.

There are also now "tunable" recessed light fixtures, that actually have a bulb that can be adjusted on the lumens setting. Follow this link to read about one such tunable recessed light product – https://www.usailighting.com/color-select

Given the realm of new choices with recessed lighting, I suggest the following approach be taken with your Main Line general contractor or licensed electrician.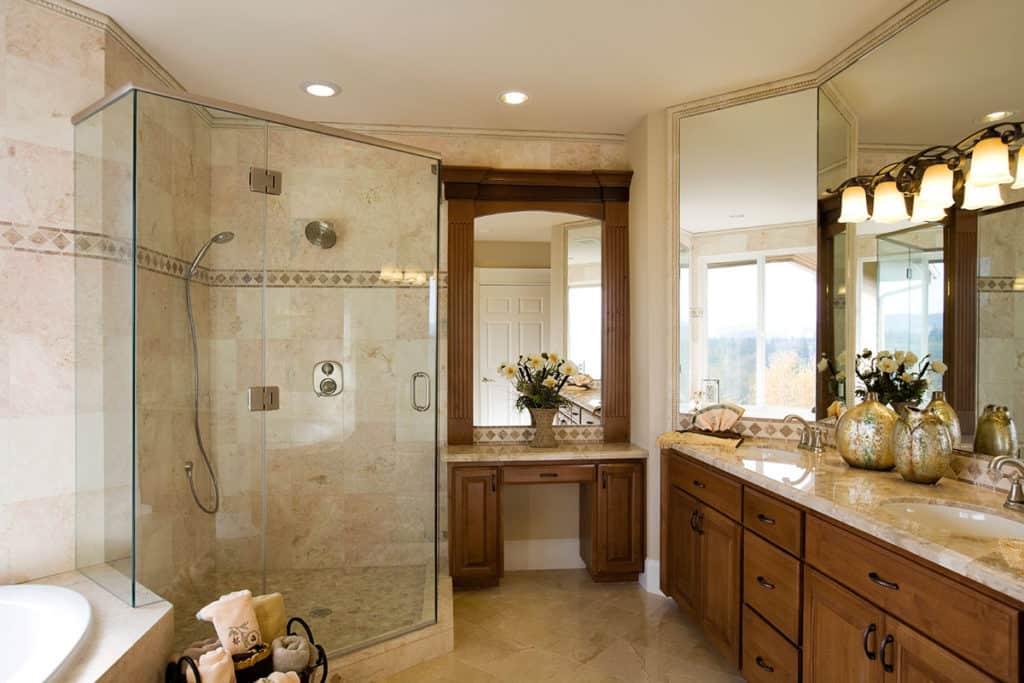 Since you need to see the different types of lighting, it will be very helpful if your local electrician or local contractor takes the time to wire in one light fixture, and allow you time to review it.

The color and lumen ranges are so wide now, with so many choices, this is the only way a contractor can truly support the homeowner in making a fully informed decision. In essence, as a general contractor, I now sample lighting for homeowners in the same manner we sample trim moldings or paint colors. That is, we put it up and let you look at it.

There are quite a few advantages to L.E.D. recessed lighting, mostly based in convenience and in costs. From a personal standpoint, not having to change a light-bulb for years and paying less for the bright, ample lighting are paybacks in themselves. Every homeowner in Wayne and Radnor love saving time and money.

However, the best advantage of L.E.D. recessed lighting in never having to change a two-story ceiling light-bulb, or having to pay an electrician or handyman to change your two-story recessed ceiling lights. The replacement costs for changing or updating two-story recessed lights can be expensive, especially at Main Line electrical contractor rates. Not to mention to access most two-story ceiling lights involves scaffolding setup and breakdown labor time.

In the next blog on L.E.D. recessed lighting, we will look at the different types of products, types of lighting, and understanding lumens and kelvin ratings. The latter two are electrical factors that can affect, and effect, your mood or energy in different ways.

My short-term goal is to help you know how to make a fully informed decision when choosing L.E.D. recessed lighting, and to have a walking knowledge that will assist you in collaborating with your Main Line licensed electrician or general contractor.